Signature Series 8 Piece Comb Set with Case
---
Whether you're just starting out as a stylist or you're already building your dream career, set yourself up for success with all the combs you need for better haircuts and sleeker finishes.
Crafted from carbon fibers, silicone and graphite resins, the Signature Series combs provide an ultra-smooth glide and are heat resistant up to 450°. The parting pick on each comb lets you create clean, precise sections. With four comb designs (Short, Long, Wide, and Tail) you'll have the perfect tool for every hair type right at your fingertips. Each comb comes in both black and ivory, giving you maximum contrast for all hair colors.
The deluxe carrying case keeps all of your combs together, at the salon or on the road. Create confidently with our Signature Series 8 Piece Comb Set.
Features
Sophisticated computerized molds eliminate all parting lines and guarantee perfect symmetry between each tooth
Quality design for effortless combing without snagging or dragging
Silicone provides the smoothest glide possible
Graphite resins are added for strength and flexibility
Carbon fibers provide heat resistance up to 450 - ideal for iron work
Combs pack in a deluxe carrying case - perfect for your station at the salon or for traveling on the road
More information
Warranty
Product Details
Easy Travel and Storage
Protect your combs at the salon, or pack them for safe and easy travel! This 8-piece set includes two of each Signature Series comb – one in black and one in ivory:
Short Cutting Comb - Use for intricate detail cutting and scissor over comb work
Long Cutting Comb - Section, cut and flat iron long hair with ease
Wide Cutting Comb - Create the perfect tension for cutting and styling naturally curly hair
Tail Comb - Tease, backcomb, section, flat iron and use with foils
Whether you travel for on-site work or you just like to keep your work station organized, you'll love the deluxe carrying case. Each comb type slides neatly into its own pocket, so the teeth stay clean and separated. No more tangled combs in the bottom of your drawer!
Contrast With Light or Dark Hair
Each of the four comb designs comes in both black and ivory to give you the maximum visual contrast for all hair colors. Use the black combs for light-colored hair, and the ivory combs for dark hair. The contrasting color helps you see your work clearly for greater precision.
No-Melt Heat Styling
Use your Signature Series Combs with your blow dryer or flat iron to style fringe, create smooth finishes, and more. Carbon fibers provide heat resistance up to 450°, so you can safely place your combs right up against your iron.
Smooth Combing and Sectioning
Comb effortlessly through all hair types without snagging, catching or dragging. The silicone material gives you the smoothest possible glide, and the parting pick on every comb makes sectioning easy and fast.
Customer Reviews
Write a Review
Ask a Question
12/01/2021
Sayra T.

United States
I recommend this product
First time buyer
It was great, better than I expected it, the quality of the products are excellent, I am very happy,gracias and by the way they sent me a present with my purchased, thanks
11/15/2021
Claire W.

United Kingdom
I recommend this product
Brilliant
Lovely set, looks nice and professional. Quality is superb
Combs and shears
I absolutely love these shears and the variety of combs ! They were all perfect size and the space between the first two teeth makes parting so much easier! I would highly recommend any stylist beginner or extremely experienced to purchase these items.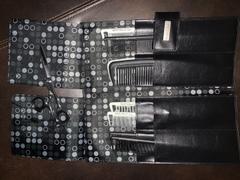 We are so glad that you love your combs as much as we do! -The Sam Villa Team
Love my new combs! Two
Love my new combs! Two colors are genius!
We are so glad that you love your combs as much as we do! -The Sam Villa Team
Just ok
Not thrilled that they do not have any bend in the haircutting combs. That's all.
Hi there! Thank you so much for your review. At Sam Villa:registered: we strive to make products that people love to use and appreciate suggestions! We are sorry that you are not wow'd by your combs. If you have any recommendations on how we can make the product better please reach out to us at info@samvilla.com. Thank you! -The Sam Villa Team
Love some combs
I absolutely love them
We love you! -The Sam VIlla Team
Faves
These are my favorite Combs! Flexible enough, and definitely strong!
Hi there! We love our flexible and lightweight combs! We are so glad you do too! Thanks! -The Sam Villa Team
Absolutely love them! They are
Absolutely love them! They are my favorite combs to use now and will be a staple in my kit!
Hi there! That is exactly what we love to hear! Thanks! -The Sam Villa Team
8 piece comb set
By far the best combs I have ever used.
Hey there! Thanks so much for your kind words! :) -The Sam Villa Team
Haven't used all of them
Haven't used all of them but live what have
Hey there! We are so happy to hear that you are enjoying your combs so far and know that you will enjoy all of them in the 8 piece set! Thanks! -The Sam Villa Team